Another in a series of Exalted females for Paul L.  This one is a bit more horrific in its description as being during or just after bloody battle.  And oh yeah, this is the first piece of digital art done with my combo birthday/Xmas present… a brand new, 22 inch, Cintiq!!!!!  Oh, by all the angels of art, what a difference from a wacom tablet!!!  I am one happy, jumping with joy, boy.
Note:  It isn't completely digital, I did scan in fairly tight pencils done on vellum.  All the color was done digitally.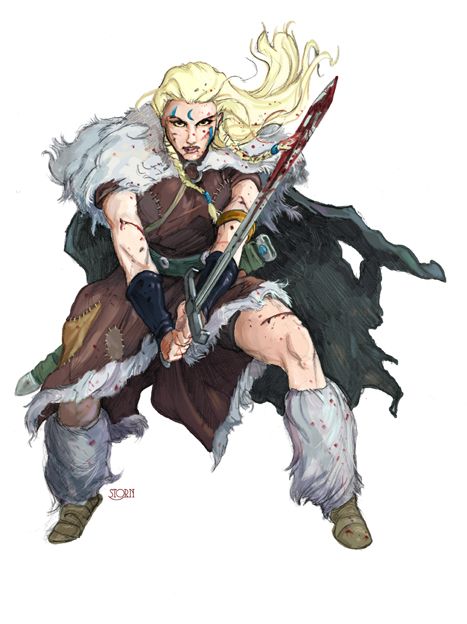 Next is the first of three Angels that I'm doing for Xmas presents for Millie's family.  I did a couple of angeds last time I was in Puerto Rico, on the spot, with cheap travel watercolors.   We are heading for Puero Rico for my first PR Xmas, something I'm quite looking forward to!
Now, I'm taking my time and doing these in acrylic… a medium I haven't used in quite some time, but wanting to give it a go again.  Inspired to go that route  from a couple of coffee table talks with local friends n artists like Jeff Szuc and Steve Ellis!
It is interesting to be tackling Christian iconology… I am not a christian (very wayward jew, btw)… yet being an american, immersed in a Wasp environment, married into a Catholic one, it feels different to be painting angels as opposed to, oh, I don't know, valkyries or medusas from other religions.  Like it is weird to be "right next door" to a subject matter, but apart from it too.  It ain't like hundreds of famous artists haven't done angels or anything… sheesh.  Yet, I feel somewhat blasphemous for tackling a subject I don't believe in…..  I don't believe in medusas or valkyries… for the record.
Anyway, time to shut up and put up the artwork….