Josh Mannon, the guy behind Within the Devil's Reach, is starting up another kickstarter.  This time it is another 3 linked adventures connecting into Within the Devil's Reach storyline.  Called Skies over Danbury.  Although, from what I understand, you could do these adventures separately too.  Both adventure books are for the game system Dungeon World.
If the kickstart succeeds, I will be doing the art for Skies over Danbury.  So.  I really hope that it does.  I enjoyed doing the art for Within the Devil's Reach quite a bit.  To give a little visual indication to both Josh and y'all of where I wanted to go cover wise, I worked up a preliminary sketch, very preliminary, and gave it a bit of a underpainting treatment.
I present it here to whet your appetites and to show a rare behind-the-scenes stage of what goes into a painting.  Hope you like and I hope you will check out Josh's kickstarter link:  http://www.kickstarter.com/projects/jbmannon/the-skies-over-danbury-dungeon-world-adventures
Here is the underpainting for Skies over Danbury: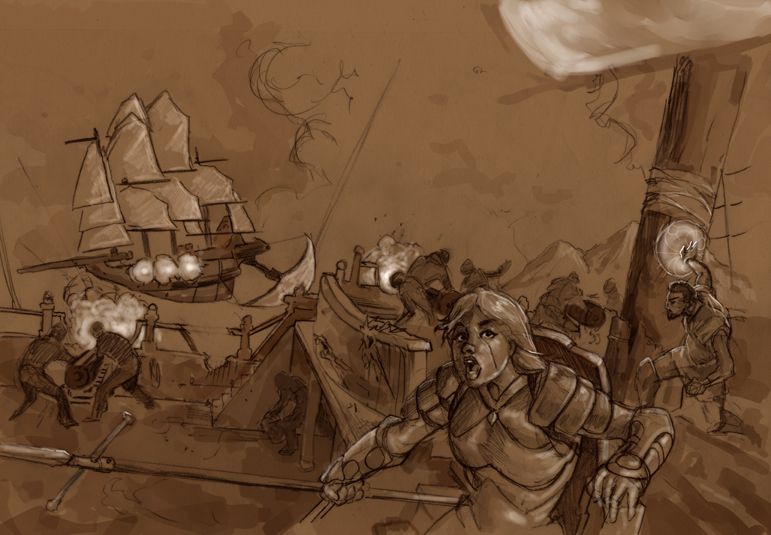 p.s. I haven't played Dungeon World yet, but after flipping through my swag copy of Within  the Devil's Reach, I SURE DO want to.  And it seems very cool how Within the Devil's Reach has questions of the players to set up parameters for the adventures to be forthcoming.