So.  I am working in dribs and drabs on a cover for a novella written by my brother from another mother, Rick.  It is one parts sword and planet, one part science fantasy and a bit on noir.  I wanted to give a sense of the urban setting and its place on the bay.  Hint at the investigative nature of the first novella.  Make sure the reader knows that there is going to be a sword fight or two.  Lastly, magic is something that might be on the menu.  My first attempt at this cover was really bland, really flat.  I wanted more depth, yet still retain a decently large central figure who is readable at postage stamp size when you are looking at it  on a kindle or some other ebook.
I think I succeeded.  That brief has a lot of masters to serve.  I'm going to show some of the process here.  First up is the sketch in my sketchbook with a tan ground.  I like working in the lights.  By having the character kneel with a bird's eye angle, I get a head to toe shot of our main character, but keep him fairly large in the frame of reference.  And I get to have a lot of room up top for Title block and trade dress stuff.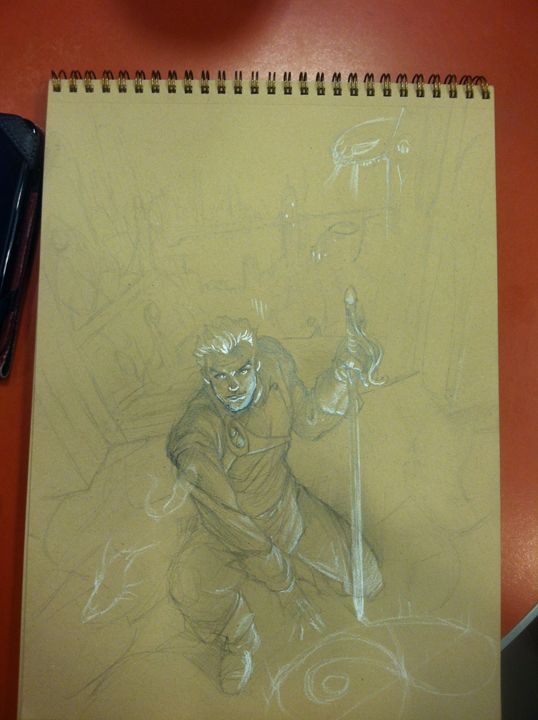 I liked the sketch and wanted to keep a lot of it.  But I wasn't sure if my hasty perspective lines were all that accurate.  So I scanned it in and played a bit more in Manga Studio 5, which has a great, simple perspective tool.  Turns out that my sketch perspective was pretty damn good, only a few lines had to be adjusted.  Also, I got to do my rune circle and lay it out in perspective.   Also could extend my frame of reference to 16×20 painting and get that title block space in nicely  Moved our hero over juusst slightly.  Made sure his scabbard made sense.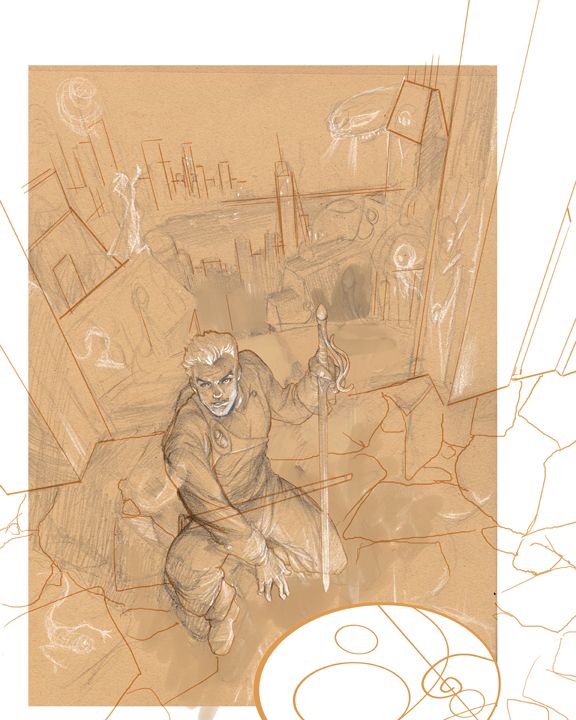 Then I printed it out sized up to the 16×20 in 4 sheets and spliced them together and transferred to the 16×20 canvas board.  Which I had prepped with gesso and for the first time, used a squeegee to get a really smooth surface that I prefer.  And I started the underpainting with Burnt Umber and white.  This is about 2 hours of underpaint in.  I'm trying to find the value structure.  I will post the completed underpainting when it gets done.  This is a vanity project and is not constrained by deadline, so it is my project in between paying work.  So who knows when the underpainting will be completed.