So, I've been a bit more in the public with my art than usual.  The 2nd day of the Ithaca International Fantastic Film Festival Art Gallery events was a 2 live models posing for all of us artists.  It was funny watching other artists sketch and the "table" talk was a hoot, as was the jockying for a better position to do our sketches <g>
The 2 Liz's from Whiskey Tango Sideshow were awesome!  They brought very cool costumes and props and a lot energy and fun to their posing.  And yes!  I wasn't making up any costuming, that is what they were actually wearing.  And yes, balancing sword on her head was held for the entire 10 min pose without a wobble.  True pros!
Thought I would share some of my sketches done that day.  Every sketch except the sitting pose with the scimitar on the shoulder was 10-20 min poses.  The scimitar on the shoulder was a 40 min pose.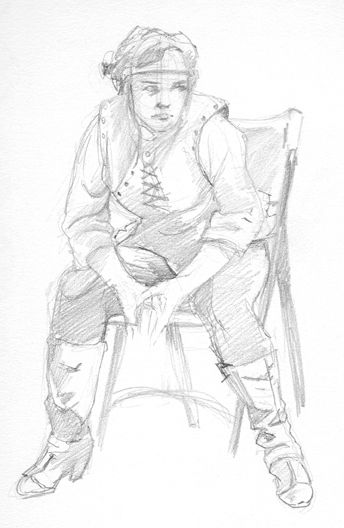 A few weeks ago, I talked about a doing some art at the Johnson Art Museum at Cornell University.  This was a sketch I did then based on the "future civilization" of this massive instillation from China.